Main mechanisms for talent management:
Procedures to identify key employees who need to be retained, and the application of policies which encourage them to stay.
Implementation of processes that identify critical posts and ensure efficient management of the people in them, ensuring robust succession plans for those positions.
Review of development opportunities and adapting pay packages to the duties and skills of key employees to be retained.
Implementation of a flexible Human Resources structure, for agility in adapting to the needs of the business.
Globalised management of Human Resources that unifies the criteria applied in the different subsidiaries.
Knowledge exchange initiatives between the different Human Resources areas, in order to increase the internal exchange of best practices: training initiatives on the management of the Company's governance code, training in pay and benefits, among other actions.
Logista regards its professionals and colleagues as a crucial and fundamental factor for achieving its objectives and generating value in the short, medium and long term. Respect, initiative, commitment and professionalism are the values that govern the conduct of both the 5,839 employees of more than 50 nationalities who work for the Group and the professionals who regularly work with Logista.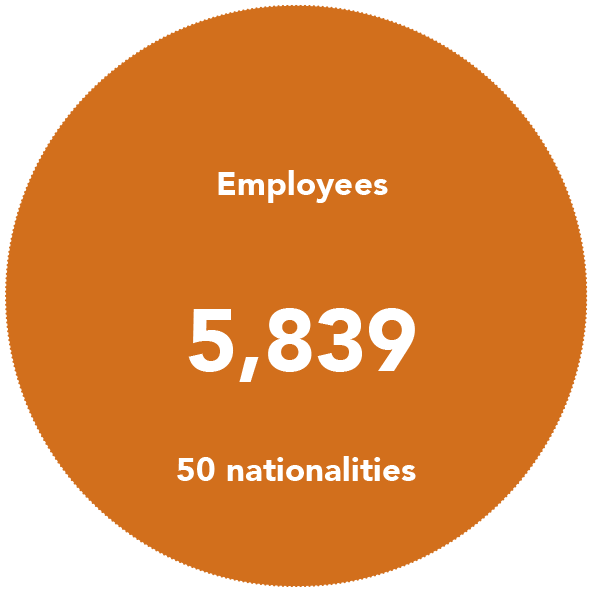 During the 2020 financial year, Logista continued to implement its 2018–2020 Human Resources Master Plan. This plan outlines the HR strategy based on the Group's objectives and the objectives of each of its businesses and boosts its efficiency and impact on those businesses and their employees.
This Human Resources Master Plan has four constituent parts:
The HR Roadmap: sets out the Human Resources priorities, based on the objectives of the Group and of each of its businesses.
The Balanced Scorecard/BSC: measures the degree of achievement in the HR Roadmap targets, decision-making and in the setting of action plans based on key human resources management metrics.
Centres of Excellence: offer specialised services in recruitment, development, pay, employee communication, industrial relations and health and safety at work.
Shared Services Centres: designed to boost the standardisation and efficiency of processes and systems, and the management of Big Data for the identification of potential areas for improvement, whether descriptive or predictive.
Logista manages talent with a view to achieving objectives and generating value in the short, medium and long term. During the 2020 financial year, with the aim of boosting efficiency in attracting and retaining talent in the Group, the Centre of Excellence for Recruitment continued to introduce of tried-and-tested competitive tools, as well as improve its processes and efficiency through the use of metrics analysis and by hiring experts, to attract and recruit the best candidates to the Group. Examples that stand out include the implementation of team management policies, participation in the main forums of business schools, universities and careers fairs in each country, the improvement and strengthening of selection procedure tools, the recruitment of junior roles through the 'Youners' project – with the aim that they develop their career at the Group – and plans for welcoming and integrating new employees.
Another Logista objective relating to its employees is the implementation of market-competitive remuneration and social benefit conditions, both individually and globally. To achieve this, the Group has a global pay policy and a series of local policies on social benefits in order to recruit and retain the finest professionals. The Group also produces market research and internal equity and external competitiveness studies (benchmarks) which facilitate decision-making and the management of teams in the various departments.
The main risk that Logista has detected in relation to social and staff issues is the retention of key staff and the ability to match personnel to posts (particularly in critical positions), since the loss of key staff and gaps in their training could increase the risk of the duties of that post not being adequately carried out.
Employment
Distribution of employees by gender, age, nationality and role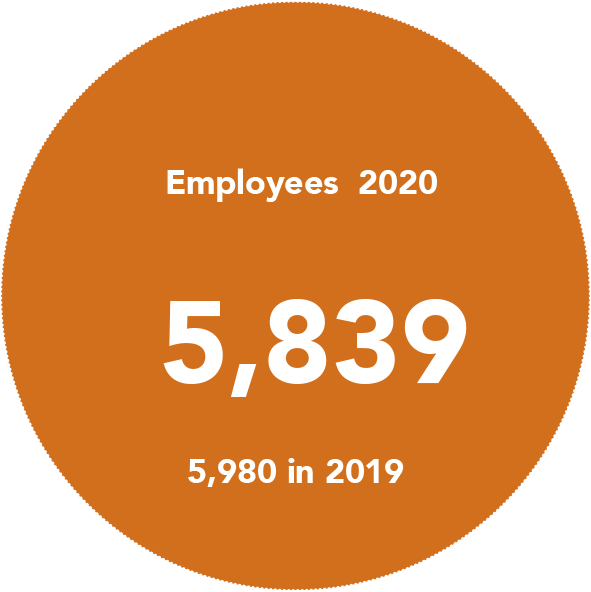 Employees by gender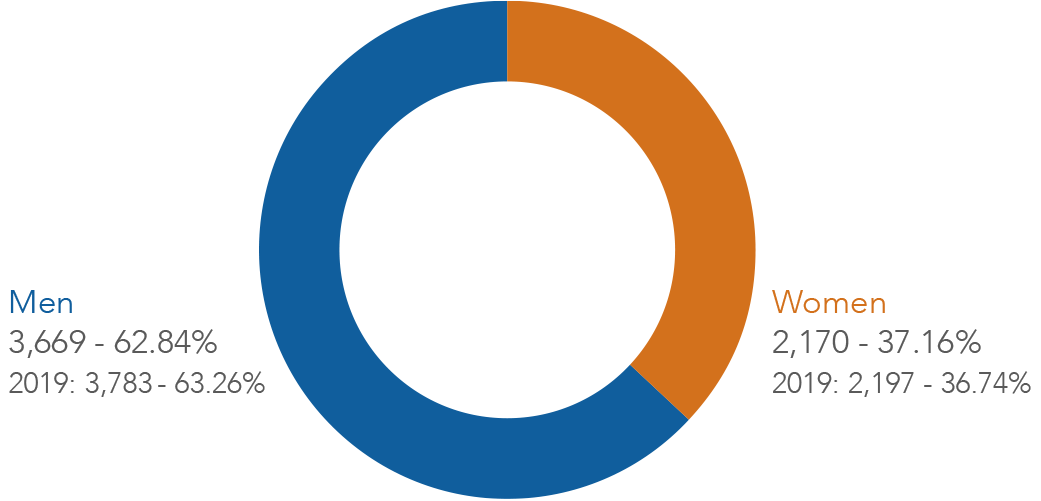 Employees by age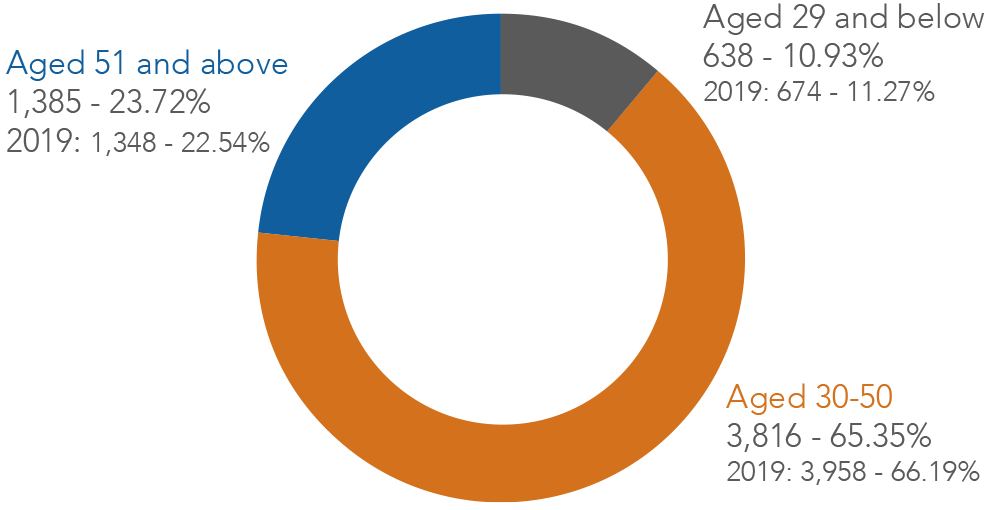 Employees by nationality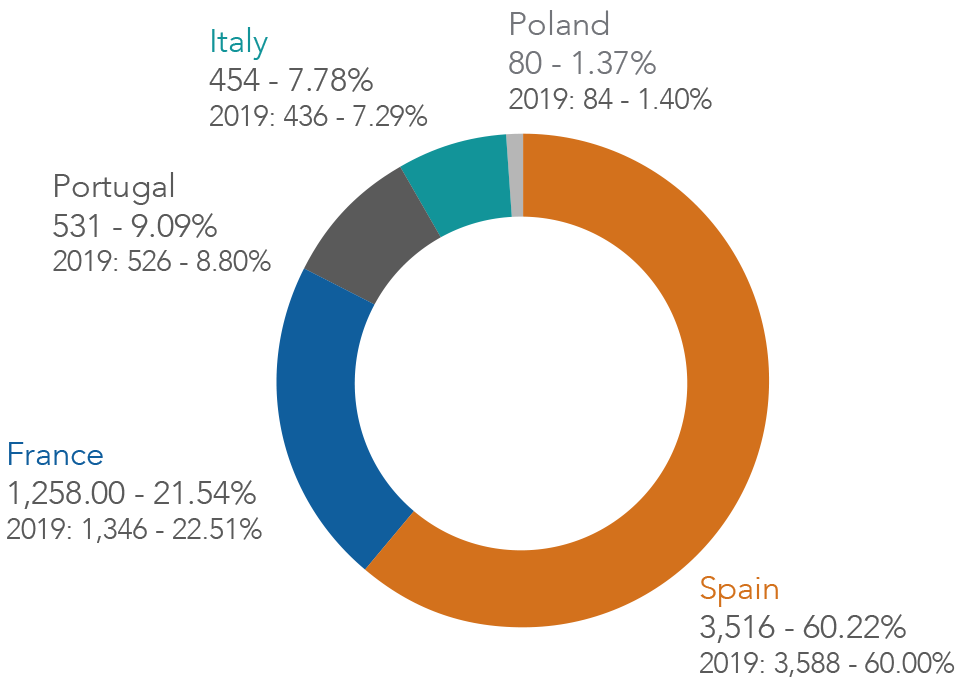 Employees by role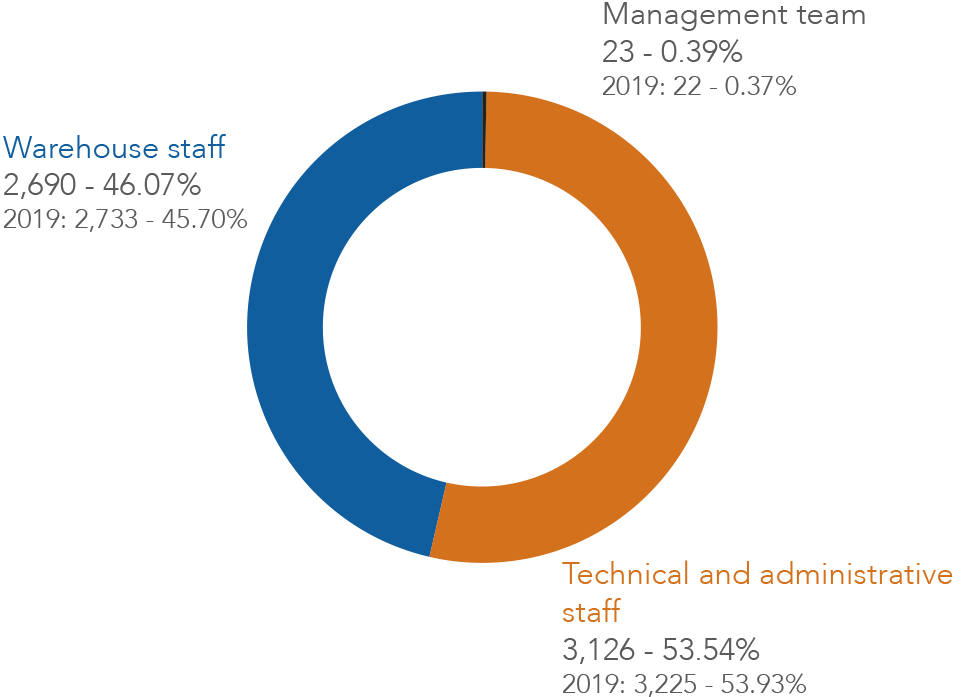 Total number and distribution of work contract types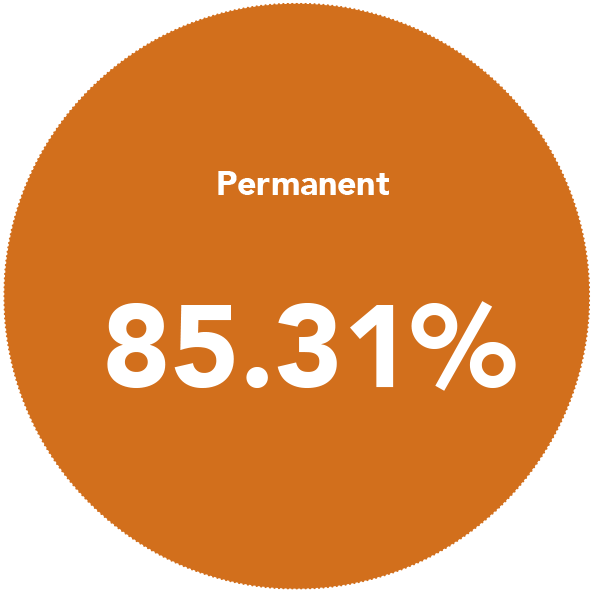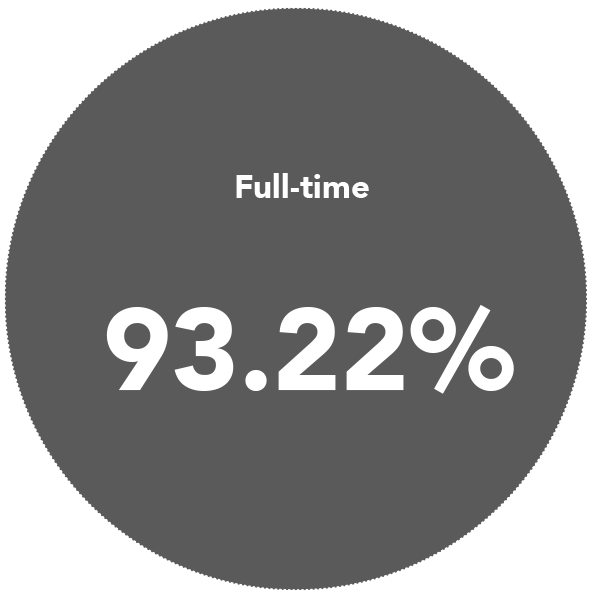 Logista fosters a long-term employment relationship with its employees in a working environment with high levels of motivation and job satisfaction.
Distribution of work contract types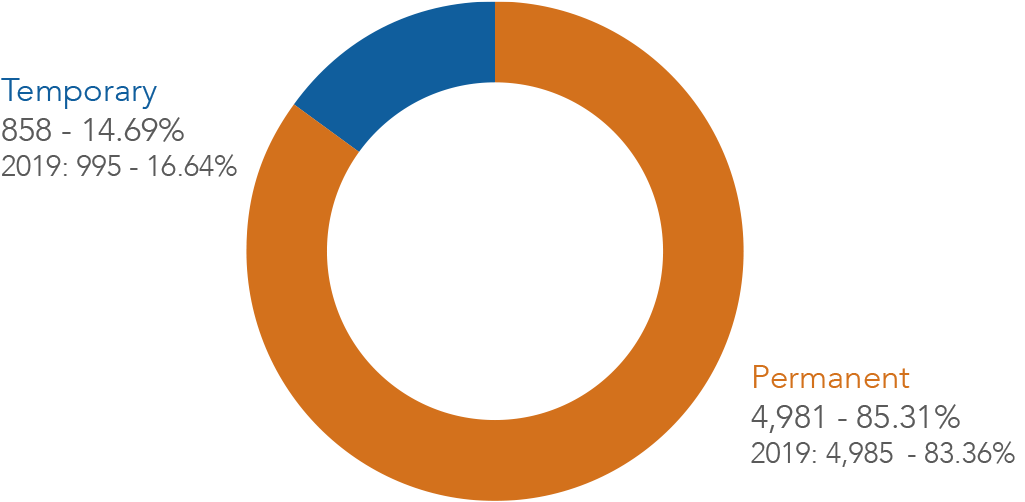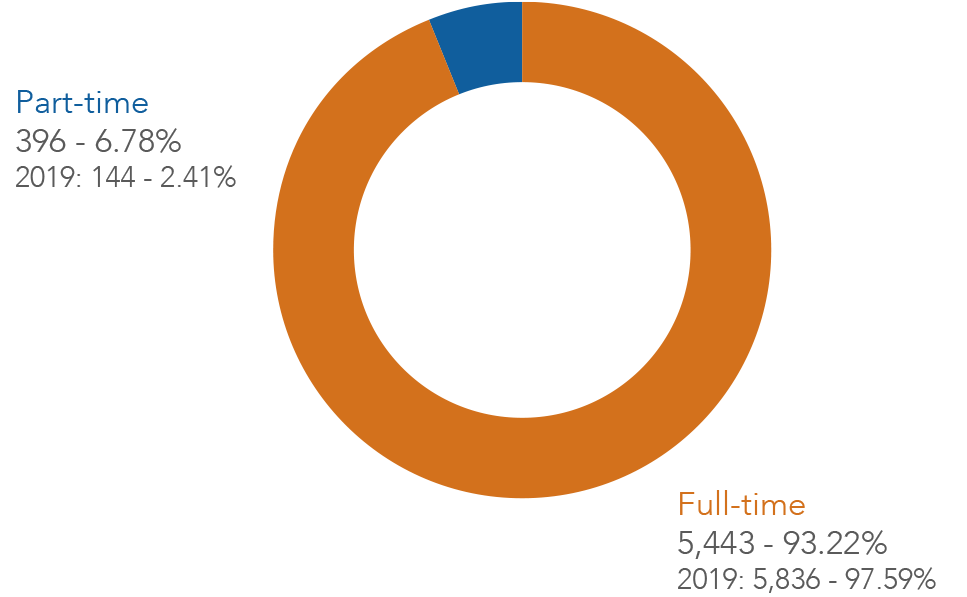 Annual average of contracts by contract type, gender, age and role
Annual average of contracts by gender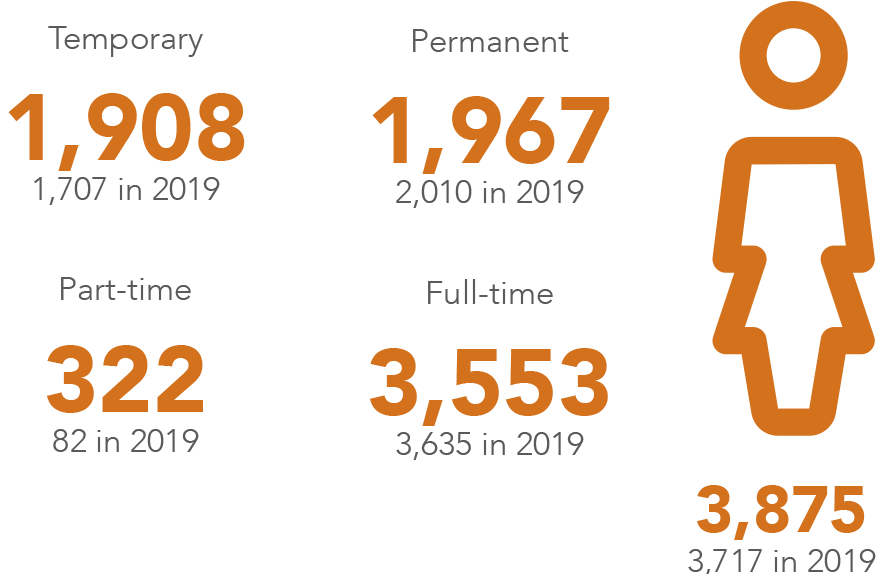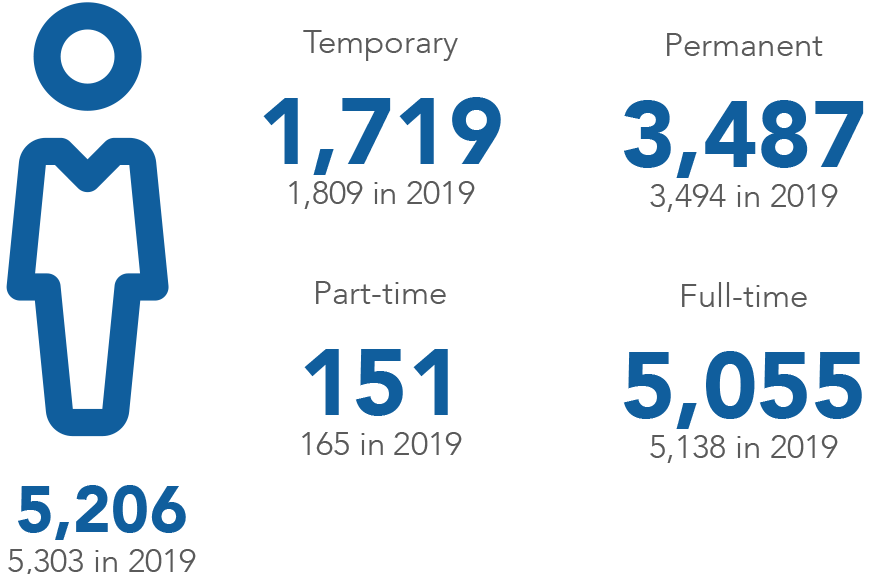 Annual average of contracts by age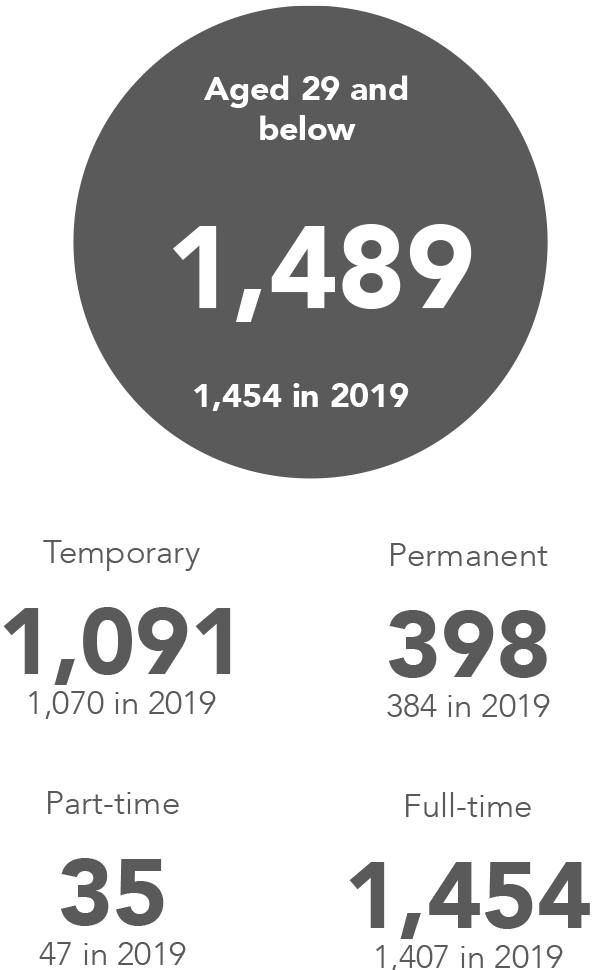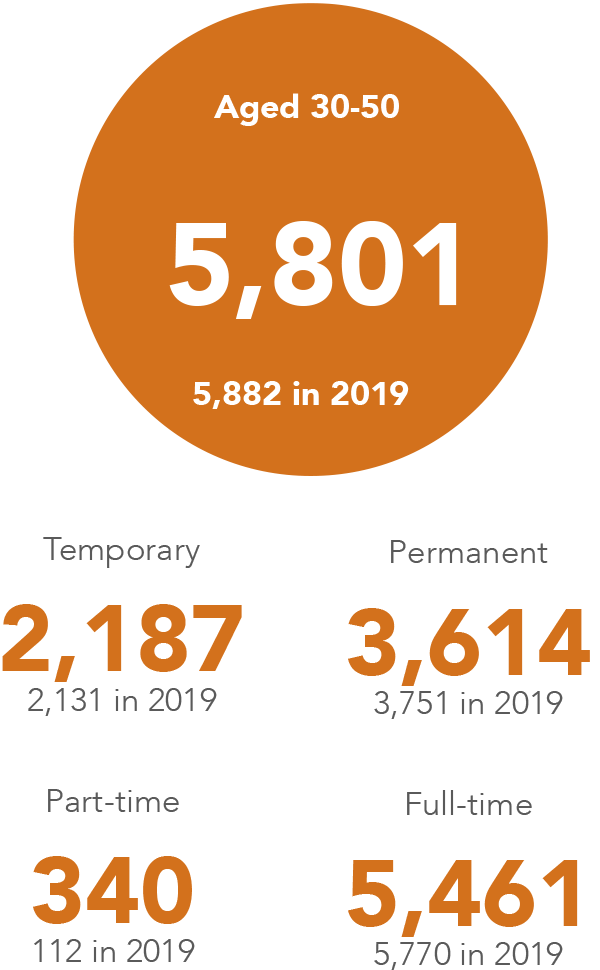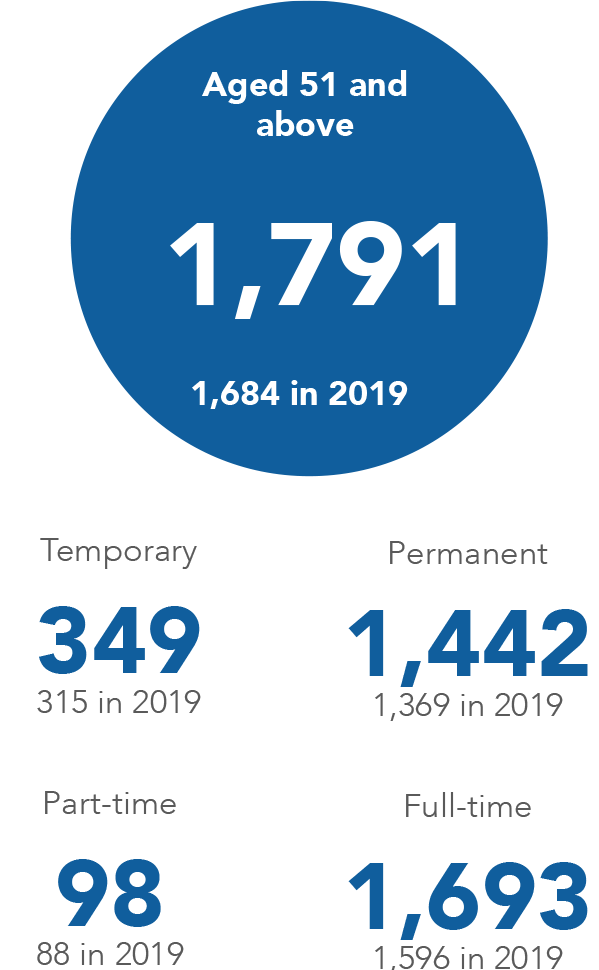 Annual average of contracts by role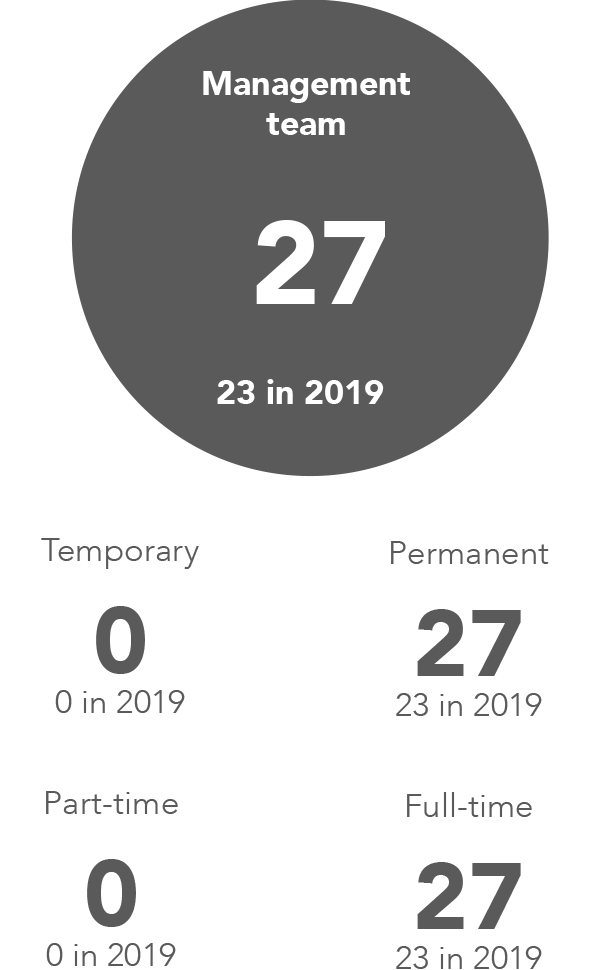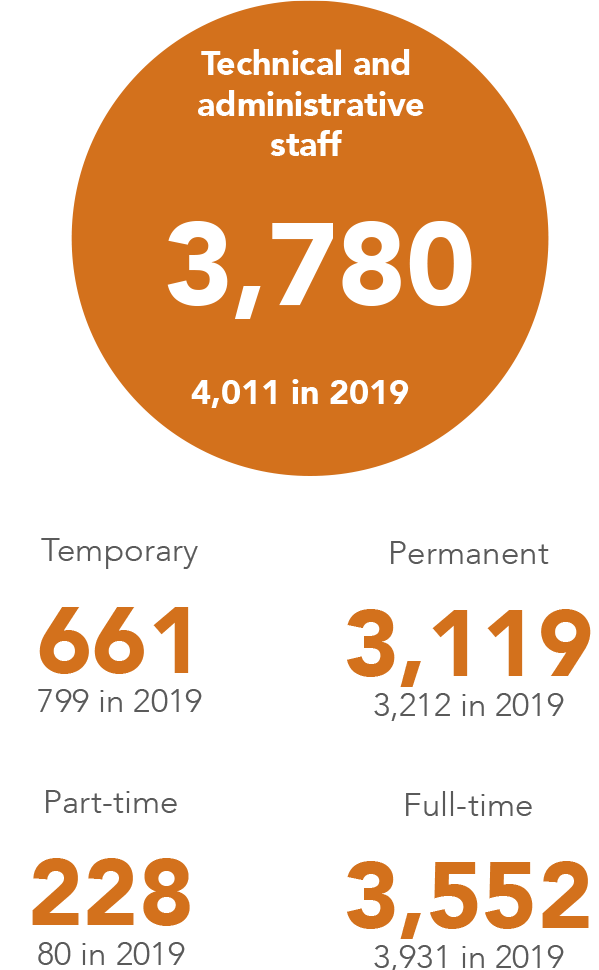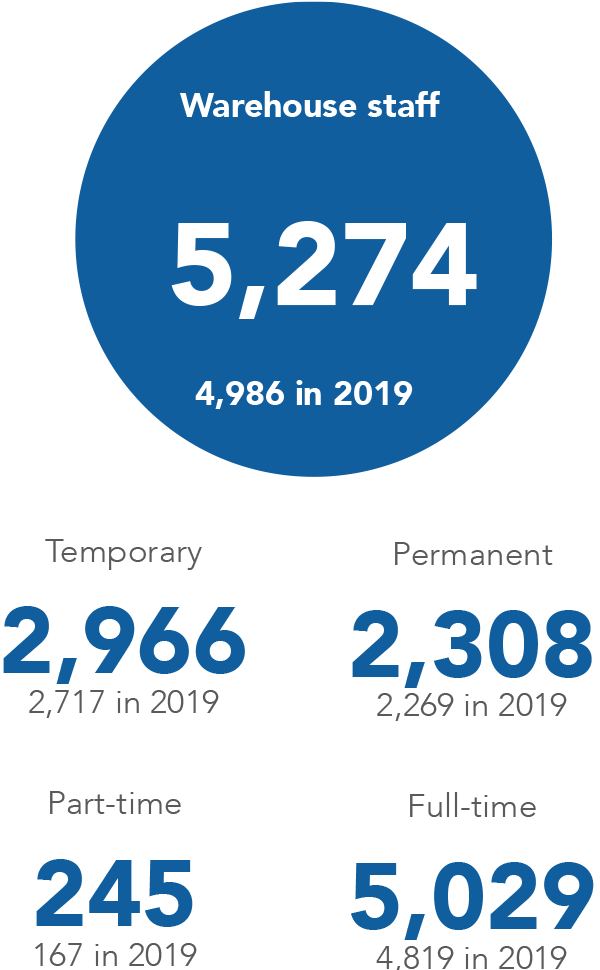 Number of dismissals by gender, age and role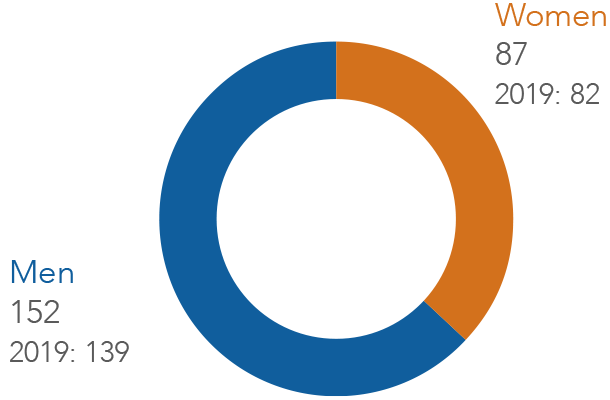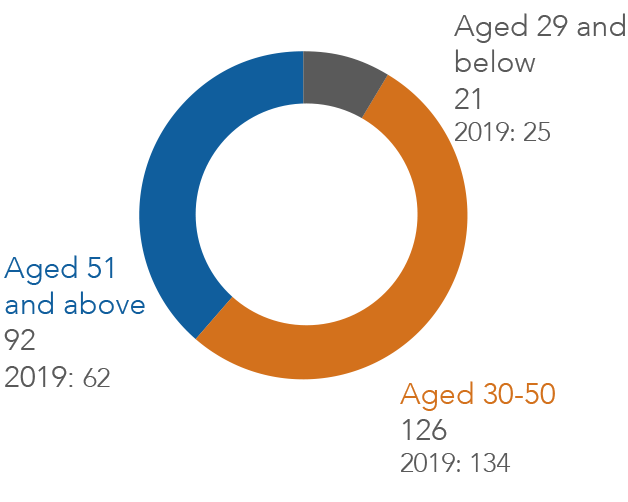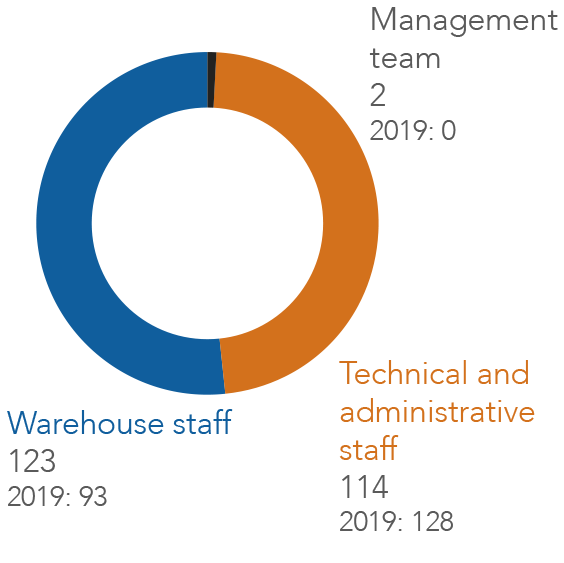 Average pay* and its evolution by gender, age and role
Average remuneration by gender (€)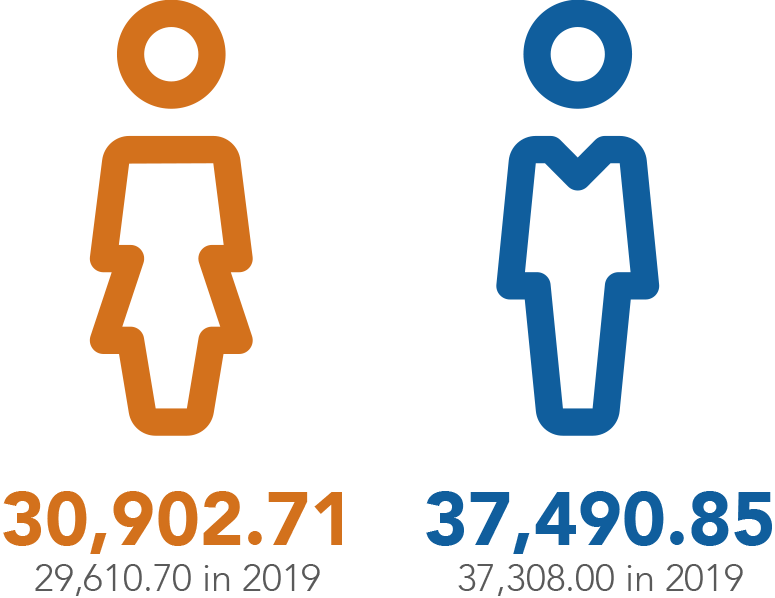 Average remuneration by age (€)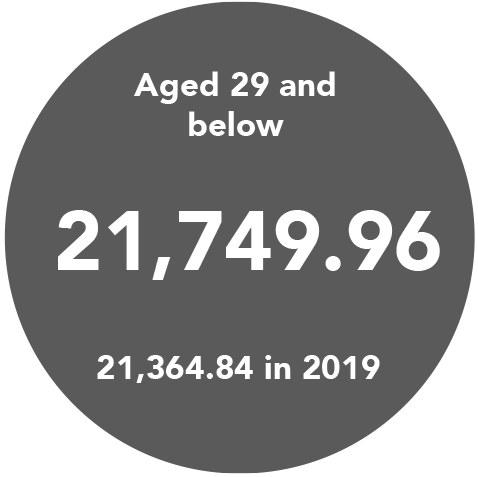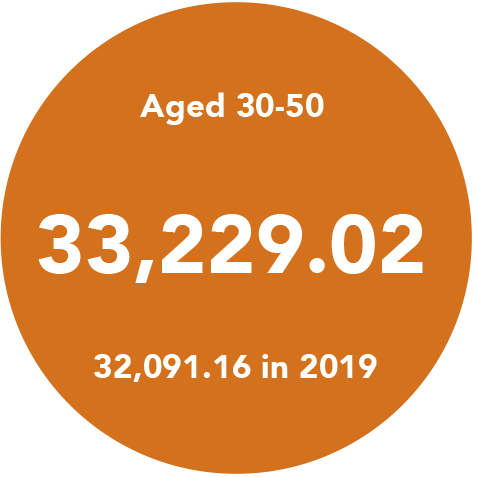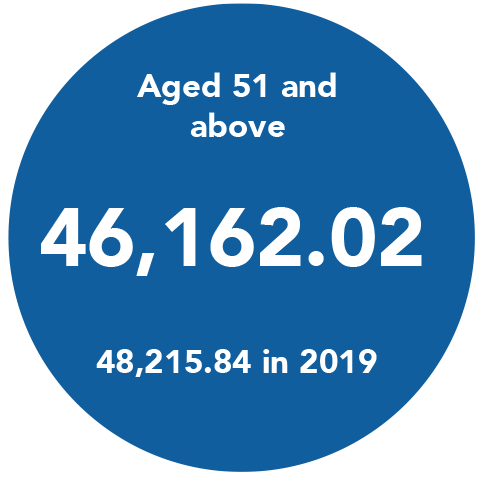 | Average remuneration by role | 2020 | 2019 |
| --- | --- | --- |
| Management team | 372,202.56 | 532,056.68 |
| Technical and administrative staff | 39,211.03 | 38,113.88 |
| Warehouse staff | 27,315.42 | 26,234.79 |
| Average pay of Directors by gender (€) | 2020 | 2019 |
| --- | --- | --- |
| Men | 134,004 | 179,653 |
| Women | 78,056 | 111,467 |
| Average pay of Management team by gender (€) | 2020 | 2019 |
| --- | --- | --- |
| Men | 405,879 | 562,839 |
| Women | 212,240 | 224,230 |
*Remuneration actually paid during the financial year
Gender pay gap
To analyse the gender pay gap, understood as the difference in pay between positions involving equal or similar duties and responsibilities, income from work received for the following items (remuneration actually paid during the financial year) has been taken into account: variable pay, allowances, benefits, contributions to long-term saving plans and any other payment received by the Group's entire organisational structure or hierarchical level, including Directors and Managers.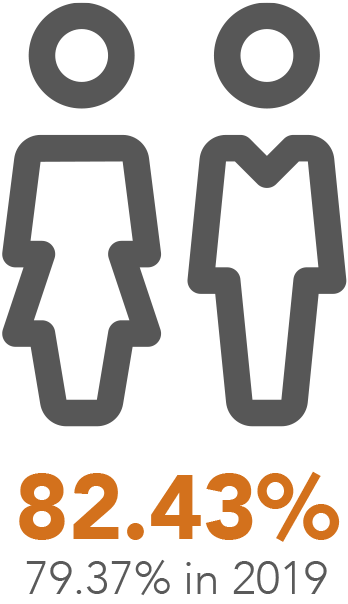 According to the information in the above table on gender pay gap at the Group, the salary of women appears to be 17.57% below that of men. However, it should be borne in mind that this difference reduces significantly in Warehouse staff positions, to 9.94%.
This is due to the seniority salary supplement.
The Management team of the Company, taken as a whole, include Managers responsible for different departments and the Managing Directors of the countries and business areas. As part of the Management team, there is the Management Committee, composed -currently made up of 9 members, - to which two women have joined during this financial year, representing 22% of the same.
In 2020, Logista increased the number of women on the Board of Directors and on the Management Committee in line with supporting equality.
On the Board of Directors, 5 of the 12 members of the Board are women, i.e. 42%.
The average pay of directors includes remuneration commensurate with their duties and responsibilities as directors. The five proprietary directors do not receive any pay for their duties and responsibilities as directors and are therefore not included in the calculation of the average.
The average pay of male directors increases with respect to average pay of women directors, mainly, due to including the pay of the Chairman of the Board, which is higher due to his roles and responsibilities as Chairman.
The remuneration of Directors is included in greater detail in the 2019–2020 Annual Report on Director Remuneration.
In 2020, Logista increased the number of women on the Board of Directors and on the Management Committee in line with supporting equality.
Introduction of policies on the right to disconnect from work (digital disconnection)
On 7 December 2018, Spain's Organic Law 3 of 5 December 2018 came into force on data protection and on guaranteeing digital rights. Article 88 of this law governs the right of working people to disconnect from their digital devices outside their working day.
As a consequence of this Organic Law, a new article, Article 20a, was added to Spain's Workers' Statute, with the following wording:
'Workers have the right to privacy in the use of digital devices made available to them by their employer, the right to disconnect from their digital devices and the right to privacy in respect of the use of video-surveillance and geolocation systems, in accordance with prevailing legislation on the protection of personal data and the guarantee of digital rights'.
In line with these new regulations, Logista has developed a new policy on employees' rights to digital disconnection that will ensure this law is implemented. This policy is currently being implemented.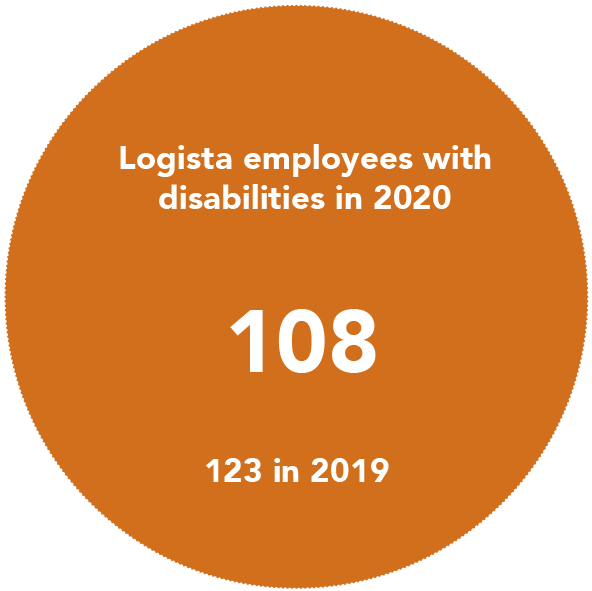 Organisation of work
Logista offers various options for the organisation of working hours, offering its employees the opportunity to request reduced working days and offering flexibility around the time they arrive at or leave the office. The aim of this is to reduce time spent commuting and improve employees' work-life balance, while also encouraging a long-term employment relationship in a stable and motivating work environment.
Notable measures adopted include: flexible working hours, compressed hours during summer months and the Christmas and Easter periods, reduced workdays with unbroken hours in legal guardianship circumstances, reduced working days and extended leaves of absence to care for a minor or a relative.
Due to the exceptional circumstances experienced this year due to COVID-19, the organisation of work has been adapted to this situation. The majority of the Group's activities have been classed as Essential Businesses, which has meant that warehouse workers have continued to carry out their duties in person, having at all times demonstrated a high commitment to ensuring service provision during the pandemic. Office employees have worked remotely, provided this is compatible with their duties.
Once the state of emergency ended, the Company carried out a phased return of its employees to offices, adopting the necessary measures to ensure employee safety vis-à-vis COVID-19.
Number of hours of absenteeism
Logista monitors the level of absenteeism on an ongoing basis, looking at absences from work due to sickness and accident with an impact for social security purposes. During the 2020 financial year, there were 623,339 hours of absenteeism, compared with 491,883.60 hours in the previous year. Absenteeism therefore increased by 26.7% during 2020 due to the pandemic experienced since March 2020.
Health and safety
Logista regards the health, safety and well-being of its employees as fundamental for the Group and is committed to providing a safe and secure working environment. The Centre for Excellence in Health, Safety and Well-Being focuses on the following core objectives:
To achieve a gradual reduction in accident rates in the Group's businesses.
To continue improving safety conditions and making work sites increasingly healthy.
To promote a culture of excellence in terms of the safety, health and well-being of employees in the Group.
The Group has continued to consolidate its OHSAS 18001:2007 certification, the international standard for preventing risks in the workplace.
As such, its OHSAS 18001:2007 certifications are reviewed annually: 2007 for Logista Pharma, Nacex, Integra2, Logesta and Logista Libros in Spain. In Italy, Logista Italia, and the work sites at Bologna and Crespellano have this certification (OHSAS 18001:2007). In Portugal, the certification of all the businesses and the site in Alcochete (Lisbon), have been reviewed. In Poland, the certification obtained by Logista Polska was reviewed two years ago.
In 2020, the Group's health and safety organisation had to focus all its efforts on managing the pandemic caused by COVID-19. An evaluation of the risk of COVID-19 infection was conducted at the Company, and preventive and protective measures have been established in the following areas:
Organisational
Collective protection
Individual protection
Especially vulnerable workers
Case and contact tracing and management
The main health and safety indicators are as follows:
| 2020 | Total | Men | Women |
| --- | --- | --- | --- |
| Accidents | 125 | 87 | 38 |
| Frequency index | 11.84 | 13.12 | 9.69 |
| Severity index | 0.34 | 0.35 | 0.32 |
| Confirmed occupational illnesses | 0 | 0 | 0 |
| Lost Time Accidents Rate | 2.37 | 2.62 | 1.94 |
| 2019 | Total | Men | Women |
| --- | --- | --- | --- |
| Accidents | 121 | 88 | 33 |
| Frequency index | 11.83 | 13.65 | 8.74 |
| Severity index | 0.26 | 0.33 | 0.15 |
| Confirmed occupational illnesses | 0 | 0 | 0 |
Social relationships
Employees covered by collective bargaining agreements
Logista fully respects the working conditions established in the Collective Bargaining Agreements applicable to its companies. During the 2020 financial year, as in 2019, 99% of Logista's employees, all Group's Companies except those located in Poland, are covered by Sectoral or own Collective Agreements that improve the working conditions of their employees.
For information about channels communication, consult the
Business model
section
Training
Logista promotes the management of talent and the professional development of its employees, with training being one of the most important aspects.
Logista bases its individual employee development plans on the 3Es model: Experience (70%), Exposure (20%) and Education (10%).
Logista is also committed to ensuring employees can easily move between roles and geographical locations, to boost their professional development. Several employees were selected during the year to be temporarily assigned to projects in other businesses and countries of the Group, and began new postings abroad in order to increase the international experience and cross-cutting vision of Logista's different businesses and areas, while also contributing to the homogenisation of the Group's policies, processes and procedures.
In addition, the Centre for Excellence in Development also rolled out other projects during the year, such as increasing talent (Talent Density) in the Group's critical positions, as well as strengthening succession plans for those positions, implementing individual action plans that incorporate different initiatives in terms of project allocation, development and pay; and not forgetting the 'Youners' Project referred to above.
| Total hours of training by role | 2020 | 2019 |
| --- | --- | --- |
| Management team | 187 | 304 |
| Technical and administrative staff | 27,318 | 42,542 |
| Warehouse staff | 9,590 | 18,986 |
Policies implemented in training
Logista does not have a specific training policy. However, during the 2020 financial year, business objective-based training initiatives were devised and implemented relating to leadership, the role of sales, project management and technical knowledge, enhancing individual and collective talent.
Training is one of the main pillars for overcoming strategic challenges in terms of personnel that are cited in Horizon 2020, namely to attract, retain and develop talent.
Equality and universal access
The Group's Corporate Social Responsibility Policy expressly sets out Logista's commitment to diversity, equal opportunities and non-discrimination in all its variables.
Diversity: over 50 different nationalities work at Logista.
Equality: the number of women on the Board of Directors and on the Management Committee has increased.
Non-discrimination: Logista continuously seeks to work proactively with a range of foundations and associations that support and employ those with disabilities who are at risk of exclusion, with the aim of helping to integrate them into the labour market. In 2020, Logista had 108 employees with different capacities (123 in 2019).
The Group's Code of Conduct enshrines these principles and lays down the general guidelines of conduct for all its employees. It is available on the Group's Intranet to ensure that it is disseminated and understood as widely as possible.
The Group continues to support sports initiatives, especially those focused on young people and the integration and participation of disabled athletes.
In Spain, Logista has had a Parity and Equality Commission since 2011. This establishes principles of equality and lays down the protocols that ensure Human Resources are managed in accordance with principles of:
Non-discrimination on grounds of gender or sexual orientation, or for any other reason prohibited by law.
Respect for people above all other considerations.
Professional conduct in relations between employees and with Management.
The promotion of a fair work climate that encourages professional development based on professional merit and on training.
These are the principles that underpin Logista's Equality Plan in Spain.
The following initiatives have been carried out in this area at several of the Group's businesses:
Initiatives to raise awareness on equality, including the distribution of leaflets.
The creation of a protocol to prevent harassment.
The creation of an Equality Commission.
The implementation of a top-up payment so that all workers on maternity or paternity leave receive 100% of their real pay.