​How to get to Logista's Leganes Office
C/ Trigo 39. Poligono Industrial Polvoranca. 28914 - Leganes (Madrid)

BY CAR:

OPTION 1: From the Madrid-Toledo highway

Leave Madrid via the M-30 ring road or directly from Atocha, in order to take the A-42 national highway (Madrid-Toledo highway).

If you are taking the M-40 ring road to the Madrid-Toledo highway, use exit no. 25.

Once on the Madrid-Toledo highway (A-42), take exit no. 10, sign posted as follows:
CENTRO COMERCIAL 
EL BERCIAL 
GETAFE CENTRO
HOSPITAL
Just a few meters after exiting the Madrid-Toledo highway and near the petrol station, take the road toward El Bercial, Centro Comercial, Getafe Centro and Hospital.
Once on this road (service road alongside the A-42), follow the signs marked "Hospital," until you reach the traffic lights. At the traffic lights, turn right to head toward LEGANES (M-406 highway).

Continue along the M-406. Pass a roundabout and go through four traffic lights. At the last traffic lights, the road divides into three lanes. As marked, the left lane heads toward Alcorcón, the centre lane toward Fuenlabrada, and the right lane toward Leganés.

Move to the left lane toward Alcorcón and bypass Leganés. After passing km. 6, take the exit marked as follows:
LEGANES 
PARQUE POLVORANCA 
CAMBIO DE SENTIDO
After taking this exit, you will see Logista's warehouse.

The road reaches a roundabout, where you will need to take the road heading to Leganés. Continue along to a second roundabout, turn three-quarters of the way around and head toward the industrial estate (Polígono Industrial).

Once in the industrial estate, turn left onto Calle Trigo. At the end of the street, you will see the entrance barrier to the Logista warehouse site, marked by a sign (this entrance is for heavy goods vehicles only). Continue along the street to the right, with the site at your left, and enter at the next barrier (car entrance).
Access from A-42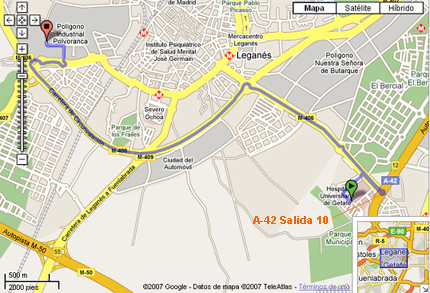 OPTION 2: From the Madrid-Extremadura motorway: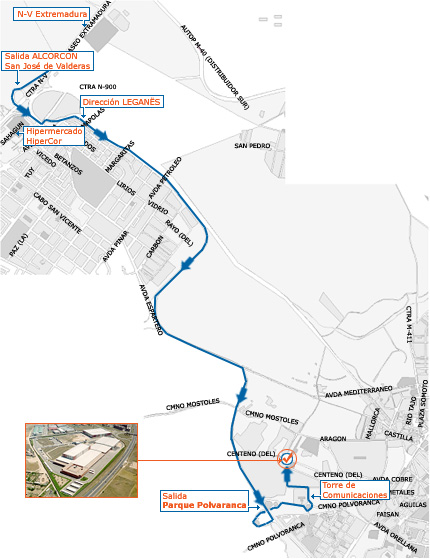 BY PUBLIC TRANSPORT:
The nearest metro: Leganés Central
​Bus: number 482